Thanksgiving
We had a good Thanksgiving this year. Sharon was able to come along to a gathering at Melody's mother's house.
Let the record also show that Sharon made dinner for us on Friday — macaroni and cheese with vegetables and turkey. It was delicious. She is healthier than she has been in years.
Another family member has also had a large bureaucratic problem resolved, which I'll say more about later; it may have national political consequences. Let me just say that "defunding" a government agency without reducing its workload is stupid, and when it prevents the government from paying its just debts or giving out truthful information, it's unethical.
---
---
Post-COVID frenzy
This is the first holiday season in 3 years where we haven't had a high COVID level, and my message to the world is going to have to be, Please understand I can't do everything everyone thinks of, nor give everybody the attention they want. Not only are we having a bathroom remodeled, we also have a pent-up demand for long-delayed medical treatment (I have two things to attend to myself in the coming month, and Melody and Sharon are both in frequent physical therapy), and I'm having a busy time at work. I'm not "retired" and sitting idle, nor can I keep up with people who are. Hang in there!
---
---
A trick algebra problem
This is much easier than it looks. Click on it to see my YouTube video in which I explain it.

---
---
Instrumental vs. ethical values
An interesting concept from Reid Blackman's book on AI ethics: We need to distinguish ethical from instrumental values.
Ethical values are what's right. Instrumental values help us do what's right. For instance, justice is an ethical value. Accountability is an instrumental value — it helps with justice if the people to whom you're accountable want justice.
I think the same applies to fairness and diversity. Diversity is an instrumental value. Having a variety of people around us helps us be fair to different kinds of people. But the real goal is fairness, even to people who will never be in our "diversity" because they are rare.
For example, people of Australian Aboriginal ancestry in the USA are not numerous (I have never knowingly met one in this country), but they certainly deserve fair treatment. "Diversity" efforts will never bring in very many of them because they just aren't here. And that is not the measure of success. It's success if, when they do turn up, they are treated as fairly as anyone else.
This is something that has bothered me a little about approaches to race relations in the US for 50 years. Having a diverse mix of people is good. It gets people accustomed to treating each other fairly. But the goal is not proportional numbers of faces from each designated group in each room. The goal is for each person to have the same opportunities and support.
---
---
Video lip sync problems
While making some videos for my grandchildren, I was bitten by a common problem in digital video: The sound and video were out of sync. Specifically, the sound was running about 3 frames (3/30 second, i.e., 100 ms) ahead of the picture. That made it look like my lips weren't matching my speech; sometimes, at the end of a word, it looked as if I were uttering another whole syllable that the microphone didn't pick up.
I learned that because of different processing speeds, this happens often in digital video and TV, and the industry standard allows the sound to run up to 15 ms ahead or 45 ms behind the picture.
I got the worst results with the Windows Camera application; better with Logtech Capture (and my Logitech webcam); but perfection only with OBS Studio, which is popular for recording the computer screen but also works very well recording from a camera. (I had to set custom resolution settings on the camera, because by default, a webcam in OBS Studio is 640×480, based on the assumption that your talking head will be a small inset into a screen that is mostly something else.)
While troubleshooting the problem, I used Adobe Premiere to view audio and video tracks together (DaVinci Resolve and other video editors will do equally well), and I clapped my hands together as a test signal. Maybe I should get or make a clap board like they use in Hollywood; the motive for those is that sound and picture were often recorded on completely separate equipment that needed to be synchronized at the beginning and end of a scene.
---
---
What's all this live-neutral-earth business?
At an electrical power outlet, the "neutral" conductor is the one that is grounded at the entrance to the building, and the "live" AC conductor is the other one. There is also a ground wire, for safety, and in Britain it's called "earth."
More precisely, "neutral" is the grounded center tap of the transformer; there are two "live" phases, 240 volts apart, with neutral halfway between. An American 240-volt outlet has those two "live" phases as well as (usually) neutral and (always) ground. A British or Australian 240-volt outlet, on the other hand, is like an American 120-volt one, just with the voltage higher.
As I was saying the other day, a truism of American wiring is that switches and fuses should be in the live wire, not the neutral. In house wiring, this is no problem. Inside equipment, it's possible because (since the late 1960s) we've always had "polarized" outlets, which have either three prongs for live, neutral, and ground, or two prongs of different widths, neutral wider than live.
The reason for all that is that the wiring inside a piece of equipment might accidentally short to the case or housing, or anything the user might touch, and then go to the ground either directly or through the body of a human being who is in contact with something grounded. We want the fuse to stop this, and the switch also to be able to stop it.
This is something engineers only started caring about in the 1960s; previously, all that mattered was getting AC power into the equipment. Then they started noticing what happened when things went wrong.
In the U.S., equipment is allowed to have a non-polarized 2-conductor plug only if it is "double insulated," which means the AC line is completely insulated from any metallic mechanical parts of the equipment, screws, switch handles, etc., and also that the case is non-conductive. This is common with power tools that might need to be used anywhere (including places that might be wired incorrectly).
Now then. Continuing to explore my new soldering equipment, I discovered that, just like my older Weller EC2000, the new Weller EC1010NA also has no fuse upstream from its power transformer, and has the switch in the neutral line. (I can correct the latter by swapping tab connectors around, and I'm planning to do so.) Both the EC2000 and the EC1010NA do ground the soldering iron itself to the ground wire, and they have everything else well insulated from it; basically they are double-insulated and then grounded.
How concerned should I be? Well, I think the EC1010NA needs a fuse upstream of everything else. Maybe its transformer is the fuse — is designed to burn out non-destructively — and Dave Jones' accident was an instance of it freakishly failing to do so. There is certainly a fuse on the output of the transformer, which protects against any short except one inside the transformer itself.
Continuing to ask about this, I've concluded that "double-insulated plus ground" is the only reasonable way to build things, because there's so much variation in practice. That is, ground the case (and soldering iron tip, or other mechanical parts) to the ground wire, but make no assumptions about live and neutral, because they are so likely to be swapped!
I found plenty of reports of North American IEC power cords that swap live and neutral. Here is how they are supposed to be (red marks live):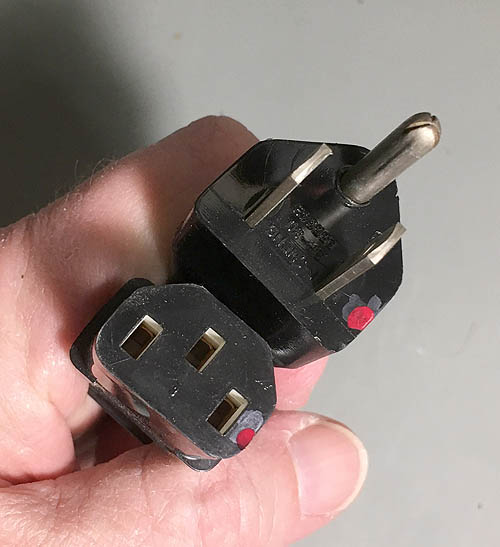 I also learned that outside North America, Britain, Australia, and a few other places, all bets are off. In Germany and Scandinavia, for example, you have 240 volts with live, neutral, and ground, but it's unpredictable which is live and which is neutral; sometimes the 3-wire plug can be put into the outlet either way, with the ground connection on the edge of it. (This has to be seen to be believed.) A few places in Italy supply 240 volts as 2 live wires on opposite phases (like an American 240-volt outlet), with no neutral. In the Philippines, 120-volt and 240-volt outlets both exist and may take the same plugs. And Brits on construction sites often use 110-volt tools (probably double-insulated ones built for North America) supplied with two opposite 55-volt phases, with neutral in the middle (actually a good idea, because a 55-volt shock is much less likely to cause injury; maybe we should do that here). In short, it's a wild world out there!
So maybe Weller is off the hook because they are a German company — live and neutral are unpredictable to them. But I still think it would be better to follow the British/American practice, knowing that in some parts of the world it doesn't make a difference.